(Manila 10 September 2022) Dominican priest Father Rodel C. Aligan will be a resource speaker at the first-ever "In Defense of Truth" (IDT 1.0) webinar on October 5, Wednesday, from 5 pm to 8 pm MNL time.
The Dean of Ecclesiastical Faculties of the Manila-based University of Santo Tomas (UST) will talk about "Protecting Audiences from Enemy Attacks in the Media." Built in the year 1611, UST is the oldest Catholic university in Asia.
Fr. Aligan, who is a Sacred Theology Professor and Regent of the UST Graduate School, will offer insights and practical approaches that would help in forming more critical and proactive media users.
Joining him is Fr. Jose Francisco Syquia, Director of the Archdiocese of Manila Office of Exorcism (AMOE), who will talk about "Spiritual Warfare and the Diabolical Evil in the Virtual World."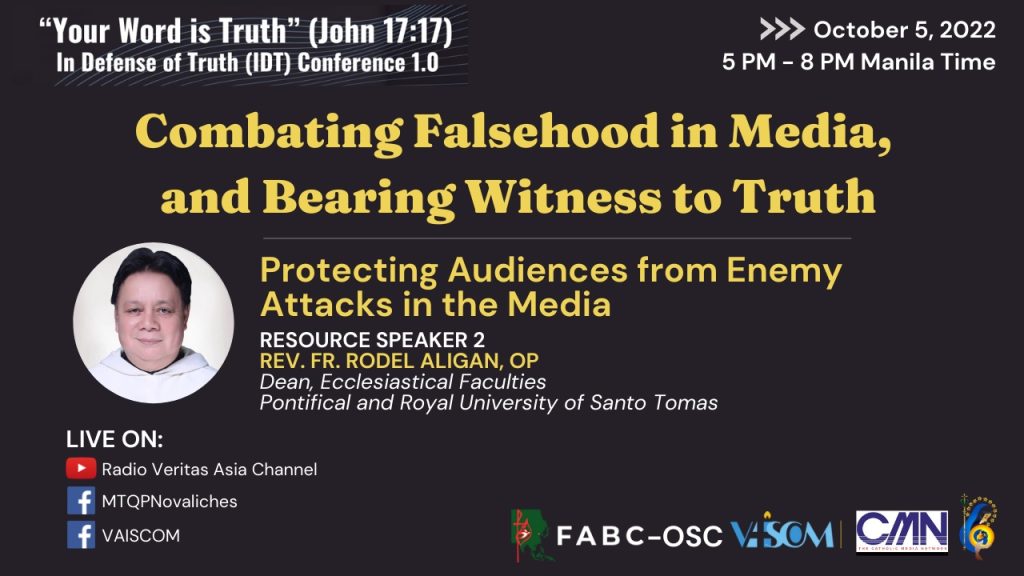 Both talks aim at exploring the forum's theme "Combating Falsehood in Media, and Bearing Witness to Truth."
IDT 1.0 is organized by the Federation of Asian Bishops' Conferences – Office of Social Communication (FABC-OSC), and Veritas Asia Institute of Social Communication (VAISCOM) with partners the Catholic Media Network (CMN) and Mary the Queen Parish (MTQP) of Novaliches Diocese.
The event will be streamed live and for free on the YouTube channel of Radio Veritas Asia (youtube.com/c/RadioVeritasAsia), the VAISCOM Facebook page (VAISCOM), and the Facebook page of Mary the Queen Parish of Novaliches Diocese (Mary The Queen Parish – Diocese of Novaliches).
Send your inquiries to [email protected]